My computer
I'm borrowing this from
alisonwonderland
as I couldn't resist the challenge when I saw her post a couple of Saturdays ago.
Me and My Computer
1. PC or Mac? (You must choose one or the other.)
MAC
2. How much do you like one over the other, and what's the main reason?
I have only ever had a mac and although I used a PC for work I am sticking to my mac and am about to buy a new one. However we do have a macword programme installed as embee found he couldn't read some attachments sent from PC's (with the help of my son-i-l, thanks Joules, I've actually ordered my new imac and am now eagerly awaiting delivery from Cork in Ireland believe it or not). I haven't really answered the question- now why do I like it- lets just say better the devil you know!!
3. What would be easier to do without for a week: your cell phone, your television, or your computer?
That's easy, definitely my cell phone I hardly ever use it. It comes from the arc and is the one and only cell phone I have owned.


It's so big and heavy that it can be a nuisance to carry and I can't use it abroad, except in Ireland, which is useful. It has a crack in the glass and sometimes the face has to be pushed hard before I can see it but I am still too miserly to upgrade. Much as I envy my daughters having camera phones, very useful for blogging!
4. Take the quiz: Are You a Computer Geek?
How do you compare?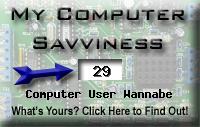 Help- this is a very low score I am almost too ashamed to let you see it.

My computer geek score was originally 25% but I had to re-do the test as when I first publish the link had disappeared -show just how much/ little I know even though I've increased my score he he)
5. What things do you feel more addicted to than your computer?
Is there anything I could be more addicted to !! I don't think sooo
.
6. If your computer has to go in for service and you're without it for a week, and you have the chance to log on at a different computer, which are you most likely to do first: check news headlines, check email, or update your blog?
Check email first closely followed by updating blog. I'd be missing my friends. I really enjoy my daily delve. I'm a lurker and only comment regularly on a few, well maybe more than a few!
Have a go and if anyone gets a score lower than mine we can commiserate together.
P.S. I hope to have some exciting computer news in a few days, have just received an email to let me know my order was dispatched yesterday and should arrive on or before 23/4. However, with such a low 'savviness' score will I be able to set it up I ask myself. Well I did manage it the first time around when I knew even less than I do now and I can always ring Joules if I get stuck!!