Are you smarter than me!!!!!
I cannot remember whose blog I saw this on so apologies for not giving you a mention. Having done the test I now have confirmation that I'm not the brightest pebble on the beach. I had this in draft wondering if I was actually going to own up to this low score. Then what do I find today Willowtree beat me to it and posted
this
. He's such a
(_E=mc2_)
as he's smarter than 97% of us foolish enough to to take the test. I just wish there had been more trivial questions about England and I might have upped my score!!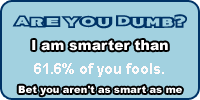 Am-I-Dumb.com - Are you dumb?
I need some encouragement so give it a go and I don't really mind if everyone is smarter than me provided that you are kind enough to still keep visiting me!!!!!
Labels: quiz