What kind of frog or work of art are you ?
I found these on
House of Purpleworms
and had to have ago!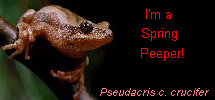 The Spring Peeper is only .75 - 1.5 inches long, but is has a very powerful high-pitched whistle with the occasional trill that can be heard over long distances. Peepers are abundant in wooded areas in or near flooded ponds and swamps. In these ponds, the Spring Peepers will form singing choral groups, making sounds that can almost sound like jingling sleigh bells from a distance.
So this is me now I'll sit back and wait for the rude comments unless of course you turn out to be a mate!!!
What kind of work of Art are You
What Work of Art are You

Your Result: Degas' Dancer

Appearances belie the strength and commitment in your life. You know that hard work pays off and work dilligently to bring beauty and happiness to others. You retain your innocence despite the ardors of your life and you never forget what it is like to float like a butterfly and stinglike a bee.

Egon Schiele's Agony
Mary Cassatt's Young Mother Sewing
Blue boy by Gainsborough
Picasso's Dora Mar
Friedrich's Wanderer
Dal'is Burning Giraffe
Titian's Venus and/or Adonis
What Work of Art are You
Create MySpace Quizzes